Cabo Verde
Key Country Facts
Population: 600,000
Top Activities and Places to Visit:
Assomada, Cha de Caldeiras
On a sunny day (be sure that the weather will stay sunny!), head to the Buracona bay area on the coast and look at the famously known "blue eye." The coastline here is filled with jagged rocks and spectacular crashing waves, but the true breathtaking sight goes to the blue eye - a reflection of light on the water in a small lagoon that is absolutely incredible. Visitors are allowed to swim in the area, though it's very important when visiting to wear water shoes or some other type of shoes that will get good traction. The rocks can get little slippery and hard to navigate, but the sight is completely worth it. If it is possible to swim underwater, seeing the blue eye from underwater is truly incredible.
Tour Companies: Aderito Alves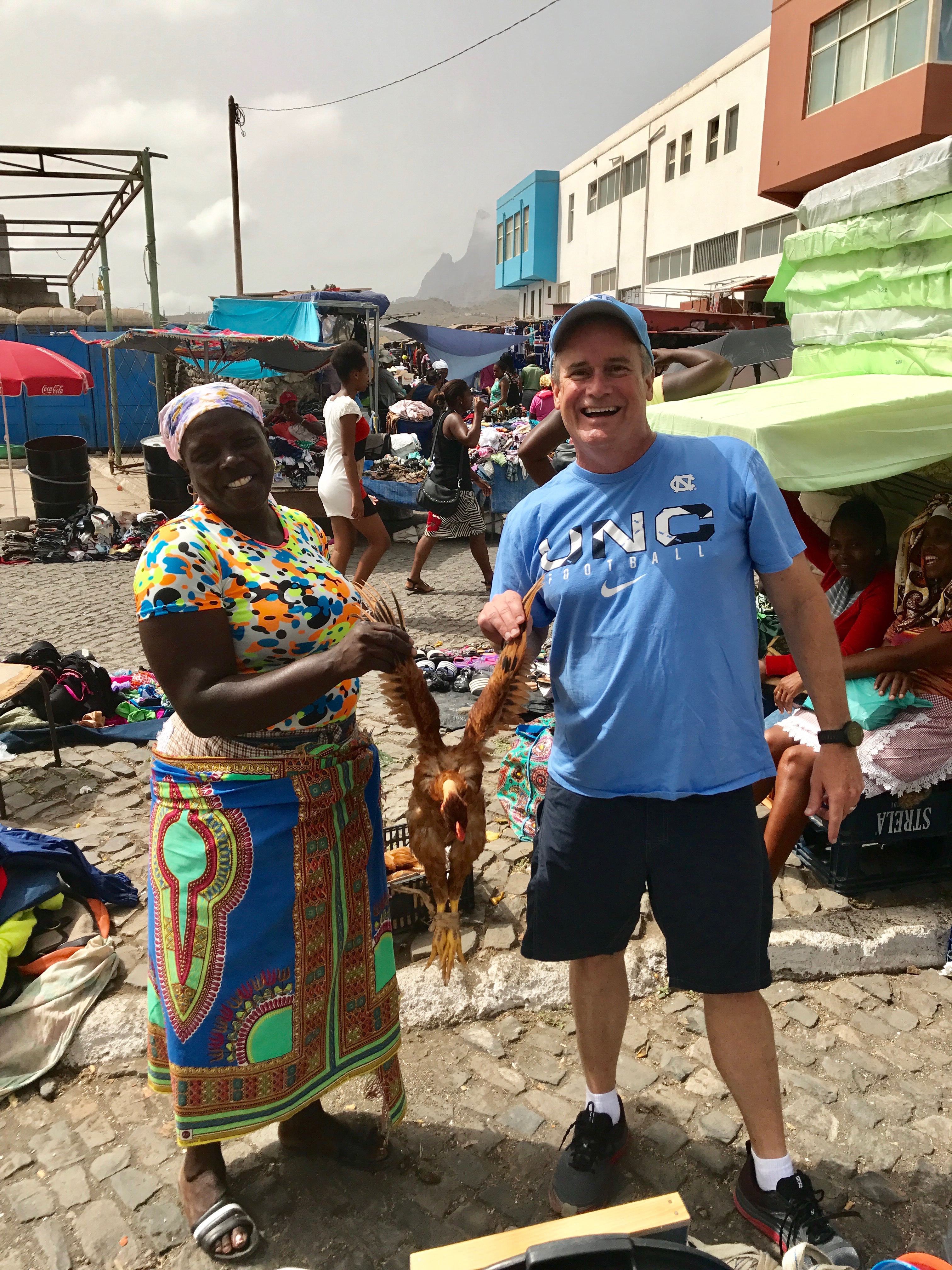 Country Information:  Cabo Verde is also known as Cape Verde. It's located on a volcanic archipelago off of the coast of Africa in the northwest. About 600,000 thousand people live here and the capital is Praia. The official language is Portuguese and the main religion is Roman Catholicism, which most of the population follows. The top exports are non-fillet frozen fish and processed fish, refined petroleum, railway cargo containers, and special purpose ships. The time is 3 hours ahead of EST.
Jim's Perspectives:  My tour books depicted Cabo Verde as spectacularly beautiful, however I wouldn't entirely agree. Perhaps Sal is … but Santiago and the country's capital city, Praia is not. These cities are more industrial areas with non-descript downtown area.
The highlight of my time here was driving 2.5 hours to the other side of the Island and visiting most cities between. Took a cool picture in Assomada. [Insert pic of Cross]/ However, my favorite thing to do was taking pic with the children who were walking to the beach [pic]
Over lunch, I had a long conversation with my guide, Aderito Alves, and I learned something new. Slaves were brought into North America in 1619, 150 years before the U.S became a country. This left me thinking that many Americans believed that slavery was a uniquely American invention. Not even close. Of the 25 million slaves sent from Africa to the Americas, only 500K went to North America. Yes, the U.S. should own their part in this horrific human story, however so too should the former colonial powers.
Americas shame isn't that we created slavery—it's that we were one of the last to abolish it. Even though in early 1800s we outlawed accepting trans-Atlantic slaves, we didn't abolish slavery until after the Civil War in 1865.