Ghana
Key Country Facts
Population: 28 million
Historical & Interesting Facts:
On its coast are two castles, Cape Coast and Elmina. These castles were slave quarters that held West African peoples during colonial before they were shipped off to the new world
Top Activities and Places to Visit:
Accra, National Museum of Ghana, Cape Coast, Labadi Beach, Elmina Castle
Other Information:
Major exports: oil, gold, cocoa, timber, tuna, bauxite, and aluminum.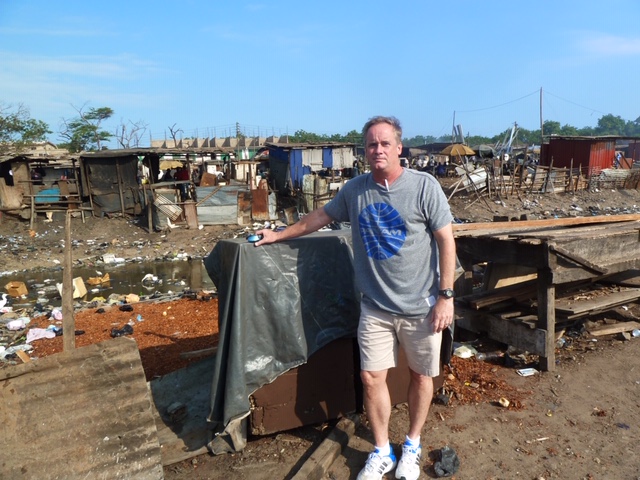 Country Information: The capital of Ghana is Accra. There are approximately 28 million people living here. The official language of the country is English, but Asante, Ewe, and Fante are spoken by the majority of the country. The majority of the population practices Christianity. The time zone is 4 hours ahead of EST.
Jim's Perspectives: Whew, what a trip to Ghana! The problem with my trip to Ghana is that … I arrived at the airport without an entry Visa … whoops. However, I improvised … I had a ticket from RDU to Atlanta to Accra and, officially without a Visa, would have been unable to board the flight to Accra. Therefore, I bought a refundable flight from Accra to Capetown, indicating that I was only in transit. Upon arriving in Accra, I had no problem obtaining a visa on arrival at the airport.
Ghana is rich in culture, natural beauty, and history. While I don't normally like museums, the National Museum of Ghana, a museum full of West African art, jewelry, and crafts is pretty good. Also of interest is Labadi Beach, which on weekends you can enjoy live music, traditional foods, and great coastal views. HOWEVER, I would not swim there!
Had a chance to walk through the biggest slums in Ghana, and they were eye opening, with millions of people living there. It was heartbreaking to see the living conditions there, and the children who are working as sex slaves around the slum area. I connected with the A Ban on Neglect team, a non-profit that rescues female teens from these slums. ABAN teaches the girls life and work skills, and provides housing and childcare enabling them to escape from their desperate situations.