Micronesia
Key Country Facts
Population: 105,000
Historical & Interesting Facts:
In tropical Micronesia, founded in 1979 and formally called the Federated States of Micronesia. It contains 607 islands and four main-island states: Yap, Chuuk, Pohnpei, and Kosrae. The time zone is 15 hours ahead in Yap and Chuuk and 16 hours ahead in Pohnpei and Kosrae. About 105,000 people inhabit Micronesia. Its main languages are English and various island dialects. The primary religions are variations of Christianity as well as the Baha'i religion. Fishing, various fruits, black pepper, betel nuts, and high-grade phosphate are its main exports.
Top Activities and Places to Visit:
Pohnpei has lush rainforests, fantastic waterfalls, and colorful, diverse coral reefs. Pohnpei's coastline is filled with nutrient-dense waters that attract marine life and plant growth. It's in this area that divers can find the 3-foot long, super strong coconut crab or experience the ceremonial brewing of the sakau drink, which has numbing, calming effects sort of like kava.
Visiting the other islands can be hazardous to your health!
Hotel(s) I Chose: The Mangrove Hotel is (by far) the nicest hotel in Pohnpei
This is an up-and-coming country, with endless possibilities. Flying into Pohnpei you pass by the light blue outer reefs and then by Sokehs Rock, a much smaller version of Cape Town's Table Mountain. FSM's economy is based on farming and fishing and its government employs a whopping 60% of the population (funded by the US Compact which expires in 2023). The population is exploding and 50% are under 24 years old.
When I arrived in Pohnpei, my ride didn't show and Anthony Silbanuz with Sunset Car Rental was so nice and dropped me at my hotel. Speaking of hotels, the Mangrove Hotel is (by far) the nicest hotel in Pohnpei. All rooms overlook beautiful Mangrove Bay and Sokehs Rock, and Valentina will set up diving and other types of tours as she did so fantastically for me. Adjacent to the Mangrove is a great sushi restaurant.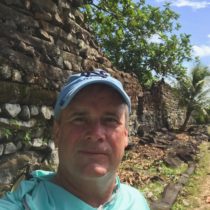 Because the Mangrove was full of surfers riding the island's amazing waves, I was forced to stay elsewhere and ended up at the Oceanview West Wing. While the view and restaurant were great, the rooms were reminiscent of a 2 star roadside motel, and certainly not up to Western standards. My towel had crust on it. There were critters in the room, and my pillow stunk.
The average worker earns $3-5 a day in Pohnpei, and the prices of most things are very cheap. For example, a taxi ride to most anywhere on the island is $1.00.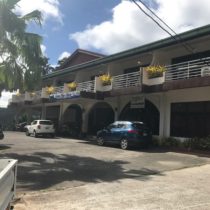 What's there to do in FSM? The diving is wonderful, and Palikir Pass shouldn't be missed.
Here are the other top things to do:
You can't miss Nan Madol (insert video text here).
Gifted a Nan Madol chief (nan wargi) a University of North Carolina hat
Went to a pepper farm
Visited a spectacular waterfall