Vanuatu
Key Country Facts
Population: 300,000
Historical & Interesting Facts:
Pigs are considered a symbol of wealth, especially pigs with curly tusks because the tusks can be used as a form of currency in dowries or other trade exchanges.
Vanuatu, an archipelago in the South Pacific ocean. Many of its 82 islands are volcanic, giving the island some fascinating sights to see. The capital is Port Vila and the population is about 287,000 people. Its official languages are French, English, and Bislama. The most popular religions in Vanuatu are Christian, Presbyterian, and Roman Catholic. Copra, used to make coconut oil, is the main export at over 35%, followed by beef, cocoa, timber, and kava root extract. Offshore financial services, fishing, and tourism also provide a large chunk of the country's income. The temperature is hot, humid, and sub-tropical, with warm waters swimmable year-round. The time zone is 14 hours ahead of EST.
Top Activities and Places to Visit:
Visit the Tanna volcano!
Port Vila is the economic and commercial centre of Vanuatu. Around this area are a wide variety of restaurants, bars, souvenir shops, markets, French-influenced cafés, and various tour and adventure activities. The area around Port Vila has various lagoons, beaches, and offshore islands, making it an exciting region to explore.
Hotel(s) I Chose: Iririki Resort. If I had it to do over again, would stay at the Havannah Vanuatu.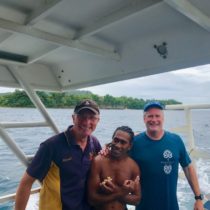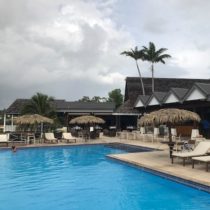 Not my favorite destination in the Pacific, although I likely might've felt otherwise had the weather cooperated and I had been able to get to the rim of the famed Tanna Volcano, on which you can feel it rumbling and molten lava spitting from its cone. While it literally rained from arrival to departure, I made the most of my time here by scuba diving and walking the city streets.
Vanuatu's scuba sites are unremarkable, with just 7-8 dive stops in the sound. The corals, fish and visibility were sparse, but Big Blue Dive shop made the best of what they have, and the staff couldn't have been more accommodating.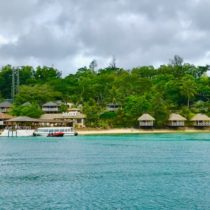 Port Vila resembles most cruise ship port cities, complete with tacky perfume, jewelry and souvenir shops. The fruit and veggie market (see pic) was fun to browse through, as was wandering the local supermarket. The highlight was eating the local catch at an eatery overlooking the water.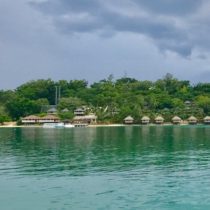 The Iririki Resort looks better on the web than it does in person. Although the waterfront rooms were nice, the overall level of service needs upgrading. The casino staff were the laziest I've encountered, and the rest of the resort's employees were mostly the same, with one bright exception: Lili, who is the heart-and-soul of the place. Without her the place would be moribund. Where to stay in Vanuatu? Havannah Vanuatu.