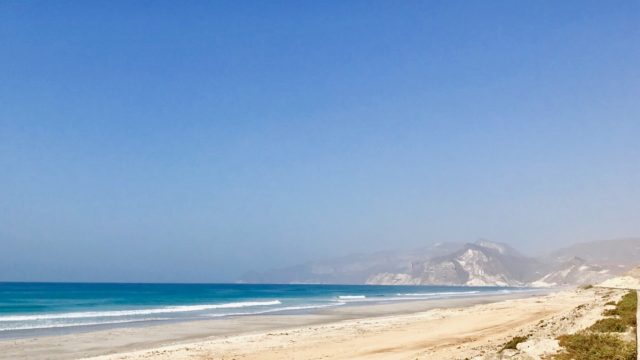 This was special homecoming for me visiting Oman again in 2019. The last time I was here was in 1998 … and I vividly remember my time here.  Why? I was with my father, the best traveling partner ever, and I got a call from my wife who broke the news that she was pregnant, with our son Kenan. After touring around Muscat for a couple of days, I chose not to go to the Maldives from Oman, instead returning to the States to celebrate with her!
Oman is a beautiful country nestled between the Gulf of Oman and the Arabian Sea! About 5 million people live here, and Oman is known for having very hospitable and friendly population. The capital is Muscat. The official language is Arabic and the main religion is a sect of Islam called Ibadism. Its top exports are crude petroleum, petroleum gas, refined petroleum, nitrogenous fertilizers, and acyclic alcohols. The time zone is 8 hours ahead of EST.
Oman is an amazing place for tourists, who should not miss visiting the Sultan Qaboos Grand Mosque in Muscat. This is an absolutely breathtaking design, both inside and outside. Not far outside Muscat, don't miss going to  small park built around the Bimmah Sinkhole, a natural body of beautiful, cool water that is free to visit and swim in. In contrast to these cool waters are the Wahiba Sands in the desert, a stunning place in nature where travelers can camp overnight, eat dinner under the desert stars, or even ride camels or even rent a 4×4 or an ATV and ride through the sands.
An interesting fact is that Mountain Dew is one of the best-selling drinks in Oman. It is illegal to drink alcohol or be drunk when in public, so many Omani people turn to drinking  Mountain Dew. Also commonly enjoyed is freshly made, delicious Arabic coffee served with dried dates in cafés.
In 2019, I flew into Salalah, in the southern part of Oman, and spent 2 nights at the beautiful Anatara Al Baleed Resort on the beautiful Gulf of Aden. From Salalah, friendly and hospitable and Oman's second largest city, I drove four hours south and crossed the border to Yemen.