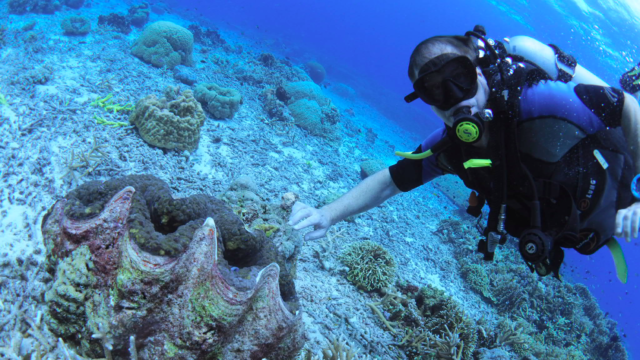 It's been a goal to explore Papua New Guinea, which is why it was one of the last countries I visited, in 2019. However, things did not go as planned to visit here on an extended trip, but nonetheless I had a wonderful several days here in the northeastern part of the country.  Here were the highlights of my stay:
Learning How to Make Fire  Remember you were a kid and you heard you could rub sticks together and make fire?  Well had a chance to do try that today, and with the right, dry, soft wood, it wasn't too difficult.
The tribesmen take a dry piece of wood from the forest, cut it with a knife to create a big piece of wood and then rub a smaller piece of wood on it. The idea is to create wood shavings, collect those, and then transfer those to a dry coconut husk.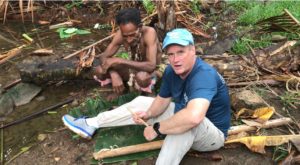 Fire – the most radical innovation of all time   !
Getting Dressed Up
Papua NG has the most fascinating tribal cultures remaining in the world and I prepared the way the locals did for a traditional ceremony called a sing-sing, where the tribes gather to celebrate major holidays and big events like weddings.
They get dressed up in their traditional outfits, paint their faces, add feathers, they have competitive eating contests, they beat their drums loudly, they dance, eat some more, and of course, they sing the traditional songs their ancestors sang centuries ago.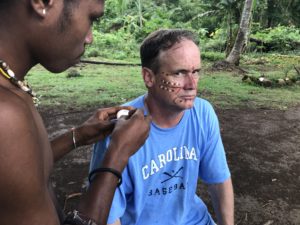 Watching Tattoos
A very important custom that women in Kafaururu and other surrounding regions participate in is getting their faces tattooed. All face tattoos follow the same pattern, centuries old and is everywhere: it's on clothing designs, on wall hangings, even etched on ancient stone carvings.
Single girls, as a sign of maturity have their faces tattooed. Prior to having this done, they can't socialize, they can't get married. After they have it done and go through a tribal initiation hey can get married, party in public with friends and they become a contributing member of the community's social fabric. This is painful … as the ink is settled by piercing the skin with thorns. And while only a small percentage of the young girls have this done now, it is still an important tradition that has been passed down for centuries here in Papua New Guinea. 
Visit to Village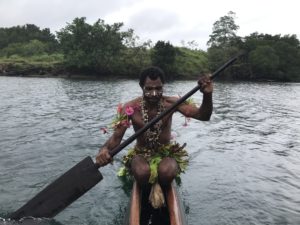 The first Europeans came to PNG in the early 1500s and called it "Papua", because of the frizzy hair of the local people. The British, Dutch, the Germans and the Aussies all occupied this country, using it as a cheap labor source for the huge cocoa and copra plantations here. The Japanese also occupied much of the country during WW2, and fierce battles were fought here.
Papua New Guinea has more than 600 islands, 7 million people and 800 languages are spoken here.  And this area is so densely forested … that the hundreds of tribes here have been isolated for centuries. 
And of note, some of these tribes have engaged in cannibalism until 20 years ago, and some like the Korowai tribe state they claim to still practice cannibalism.