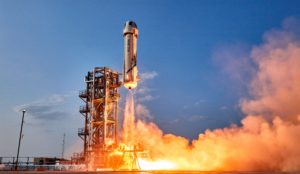 On March 31, Jim Kitchen '87, a professor of the practice of strategy and entrepreneurship at UNC Kenan-Flagler Business School, was part of the six-person crew of Blue Origin's latest flight to space.
The journey lasted just 15 minutes, but it was a trip Professor Jim Kitchen had dreamed about since he was a child watching an Apollo launch while sitting on his mom's lap on a Florida beach.
On March 31, Kitchen '87, a professor of the practice of strategy and entrepreneurship at UNC Kenan-Flagler Business School, was part of the six-person crew of Blue Origin's latest flight to space.
It was the 20th flight in the New Shepard program's history and just the fourth with people on board for Blue Origin, founded by Amazon CEO Jeff Bezos. The flight had been delayed a week and then for almost an hour on the ground. When it finally took off around 10 a.m. CDT in West Texas, he was mesmerized.
"I could see Earth below," he says. "That's the lasting memory that I have, just marveling at how amazing it was that we had arrived in space. There was that small planet with the curvature and then the blackness of the universe."
He had planned to take a photo and ham it up, do a Superman pose, but he was in such awe all he could do was look.
The trip of a lifetime
Blue Origin's NS-20 flight took the crew 65 miles up – 10 times higher than a plane – at 2,300 mph and then 2,600 mph on the way back down.
When it hit zero gravity, Kitchen and his crewmates unbuckled and floated about the cabin for just a few minutes.
"You see pictures of space, but my brain was not ready for it," says Kitchen. "You've never seen anything like it."
When he stepped out of the cabin moments after landing, he described the trip as an out-of-body experience. "You're going 2,300 mph and you feel every bit of that," he says.
The otherworldly intensity of the liftoff is a vivid memory.
"I thought I would be looking out the window and just admiring the Earth as it got smaller and smaller, and that's not what happened," Kitchen says. "It became very clear, very quickly I was going to hang on for dear life on the upwards launch."
John Glenn, Alan Shepard, Gus Grissom and Neil Armstrong always have been Kitchen's heroes.
Now he's officially an astronaut, too. His name is on a space flight's official uniform patch. The design includes two orbital rings, in part to reflect Kitchen's early promotion of such low-orbit trips.
His crewmates included Marty Allen, Party America CEO; George Nield, Commercial Space Technologies president; Sharon Hagle, SpaceKids Global founder; Marc Hagle, CEO and president of Tricor International; and Blue Origin's Gary Lai, chief architect of the New Shepard vehicle.
Lai replaced a previously announced crew member: "Saturday Night Live" comedian Pete Davidson, who had to back out because of the rescheduled launch date. Kitchen's friends, family and students were overjoyed for him when he was chosen for the flight, and he earned extra cred because of Davidson, especially from his two college-aged children.
Never giving up
Kitchen never gave up on his childhood dream of space. When enrolled at UNC-Chapel Hill, he started a marketing business his junior year and helped promote a startup in Seattle trying to sell low-earth-orbit space trips. He wasn't successful, but it helped keep his space dreams alive for 40 years.
After a lifetime of dreaming, it happened quickly.
After the flight announcement, Kitchen headed to Texas and began training, documenting the experience on Twitter and Instagram while sporting a Carolina blue hat and a UNC jersey under his spacesuit.
He took a few things with him on the flight: passports from his previous travels to all 193 countries recognized by the United Nations — and a giant flag emblazoned in red with "194." He got almost everyone involved with the Blue Origin flight to sign it.
When he stepped off the rocket cabin after touching down, he held that flag up high.
He also packed what became the only basketball signed by Dean Smith and Michael Jordan to go to space. Kitchen plans to get former UNC men's basketball coach Roy Williams and Head Coach Hubert Davis to sign it, too, and then auction it off to support student startups in the UNC entrepreneurship community.
Kitchen also took stickers for his UNC Kenan-Flagler students that say, "My professor went to space and all I got was this lousy sticker."
With his students, Kitchen talks about his dream of going to space in the context of fostering an entrepreneurial spirit, encouraging them to dream big.
"This was very emotional for me, but it's also a message for my students: The things that are worth waiting for often don't come immediately," he says. "You have to keep that dream alive. Dreams are worth waiting for.
"Sometimes you just lose heart or lose the belief that things like that are going to happen. You kind of give up on them. You shouldn't."
And the lessons learned from the experience – the importance of keeping a dream alive, of being persistent and mindful and believing in yourself – will be the central theme of Kitchen's UNC Kenan-Flagler entrepreneurship course from now on.
"My school-teacher parents knew I had an entrepreneurial bent and they encouraged that. I went to UNC and they encouraged that. So that's one lesson, that anything is possible regardless of where you come from, what your family background is, who you parents are or aren't," says Kitchen. "You can push through boundaries and reach your dreams. For me, space was another boundary."
Space was also trip No. 194, the final frontier.
https://www.unc.edu/posts/2022/04/22/mission-accomplished/