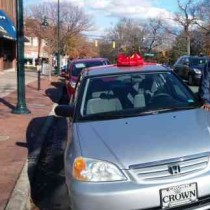 Social entrepreneur and Kenan-Flagler Business School instructor Jim Kitchen introduced himself to Sam McAdoo on Monday in about the nicest way possible.
"Hey that's your new car," said Kitchen, pointing to a pristine silver Honda, parked on Franklin Street with a bow on top. "It's yours, man."
"It's mine?" asked McAdoo.
"It's yours."
"Man – no way."
"Yeah, it's yours," Kitchen assured him. "Wanna go look at it?"
"Yes, I do!"
McAdoo is the fourth lucky recipient of a free car over the past year, thanks to the profit-making skills and community spirit of some of Kitchen's UNC students, and the support of Community Empowerment Fund.
"What we're beginning to develop is a criteria for people whom we're giving these vehicles," said Jim Kitchen, "because transportation is so important to the transition from right-on-the-edge-of-homelessness to becoming self-sufficient."
Sam McAdoo has finished Community Empowerment Fund classes on budgeting, saving money, and other skills. He's proven himself to be free of a destructive lifestyle, and he's working toward certification for a career in truck driving.
"I was in a bad life for quite a few years," said McAdoo. "I had no earthly idea which way to go, which way to turn. I couldn't find no help until I found CEF. The thing about it was, what people don't understand is, when you deal with CEF, they're not there to help you fix your problems. They're there to show you how to fix your own problems."
Maggie West is the program coordinator for Community Empowerment Fund, which works with people who are either homeless, or living at the edge of homelessness. She talked a bit about why McAdoo was chosen to receive this gift.
"He lives in Efland," said Maggie West, "and he was working at the Carolina Inn, but his car tanked out on him. So he had to figure out a new –actually, he's still searching for new employment."
That and many other aspects of McAdoo's life have been made easier now. Crown Honda of Southpoint took the $7,000 raised by Kitchen's students and came up with two nice cars. Two days earlier, another Honda was given to Equashia Mumeen, formerly homeless, and now a kitchen assistant at Granville Towers West.
McAdoo's new car is nice silver 2003 Honda Civic that looks brand-new.
Walter Sturdivant is a sales consultant and internet sales manager at Crown Honda. He's been working closely with Kitchen and CEF to get cars to deserving folks whose lives will benefit greatly from them.
"We kind of kept our eyes open for the kind of car that would be safe; that would be something that would help a person."
Kitchen said he hopes to be involved in 10 car giveaways this year.
Writer: Danny Hooley http://chapelboro.com/news/unc/unc-business-students-make-fourth-car-giveaway-possible/