Country Information:
The Philippines are an archipelago between the Philippine Sea and the South China Sea. The capital of Philippines is Manila, and there are approximately 110, million here. The official language of the Philippines is Filipino and English, with the majority of Filipinos speaking Tagalog and other local dialects. The majority of Filipinos practice Catholicism. Major exports of the country include semiconductors and electronic products, machinery and transport equipment, wood manufacturers, coconut oil, seafood, bananas and other fruits.
Jim's Perspectives: 
Had the most unbelievable experience visiting with the founder of Gawad Kalinga, or GK, Tito Tony in 2015.
Gawad Kalinga is a Philippine-based poverty alleviation and nation-building movement whose mission is to end poverty for 5 million families by 2024. Here's the problem as Tony sees it: Philippinos are leaving their villages and flocking to Manilla in search of meaningful employment. However, jobs are hard to find in the city, and most end up living in shanty towns. Tony aims to create opportunities in rural areas, by increasing entrepreneurial education and manufacturing of sustainable products. He has built entire communities, providing housing and jobs to thousands of people across the Philippines and the world.  And get this … corporate sponsors are underwriting the houses he builds!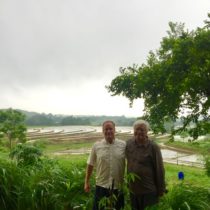 Jim & Tony overlooking community