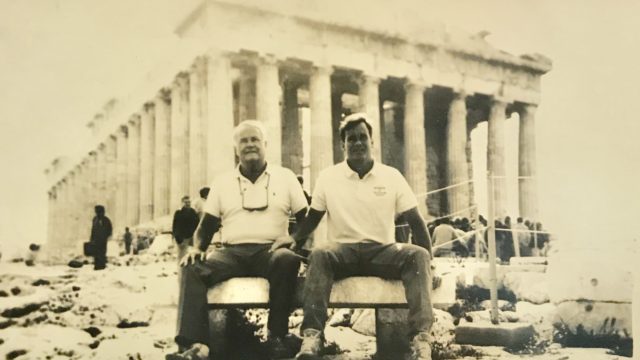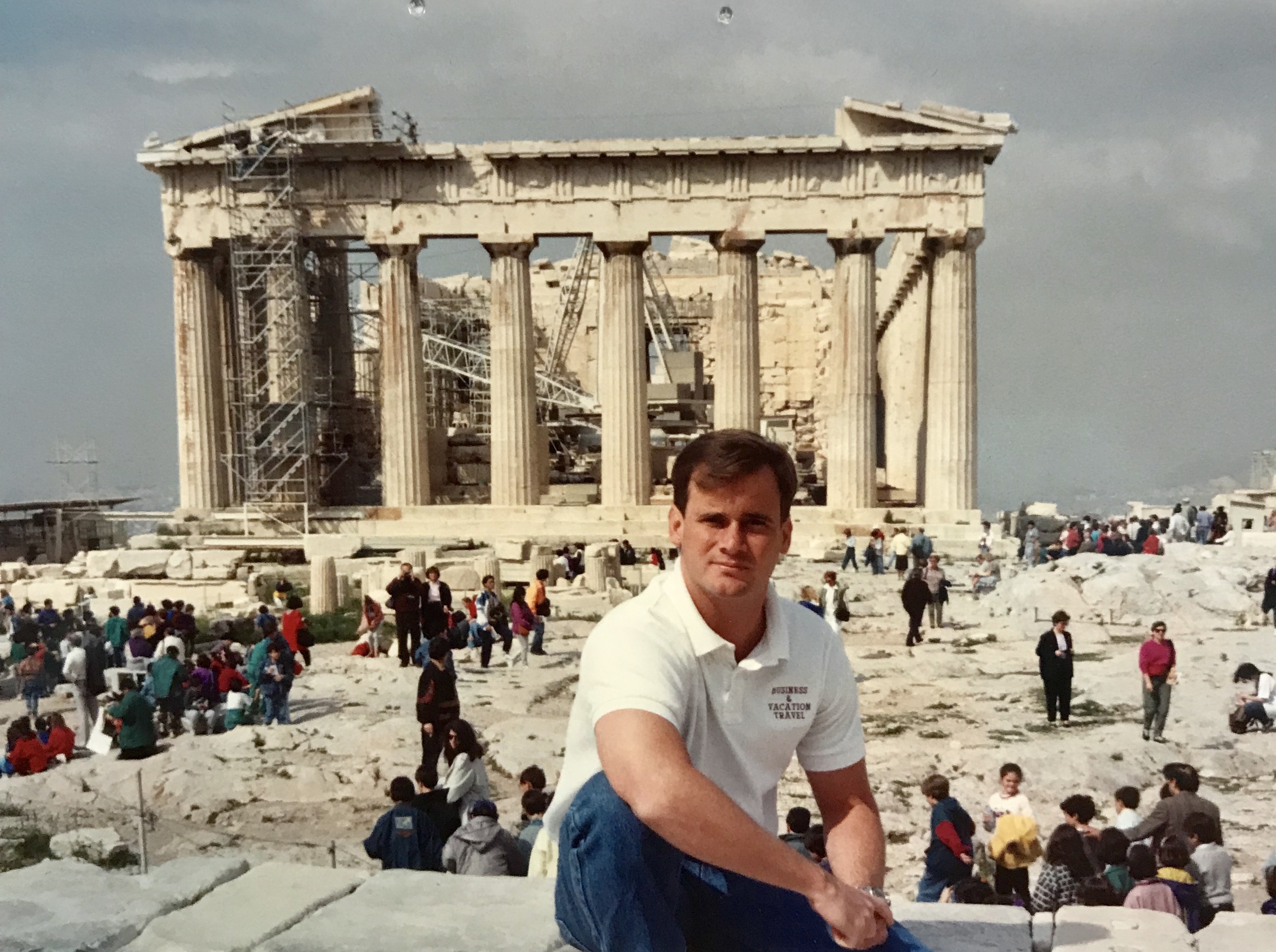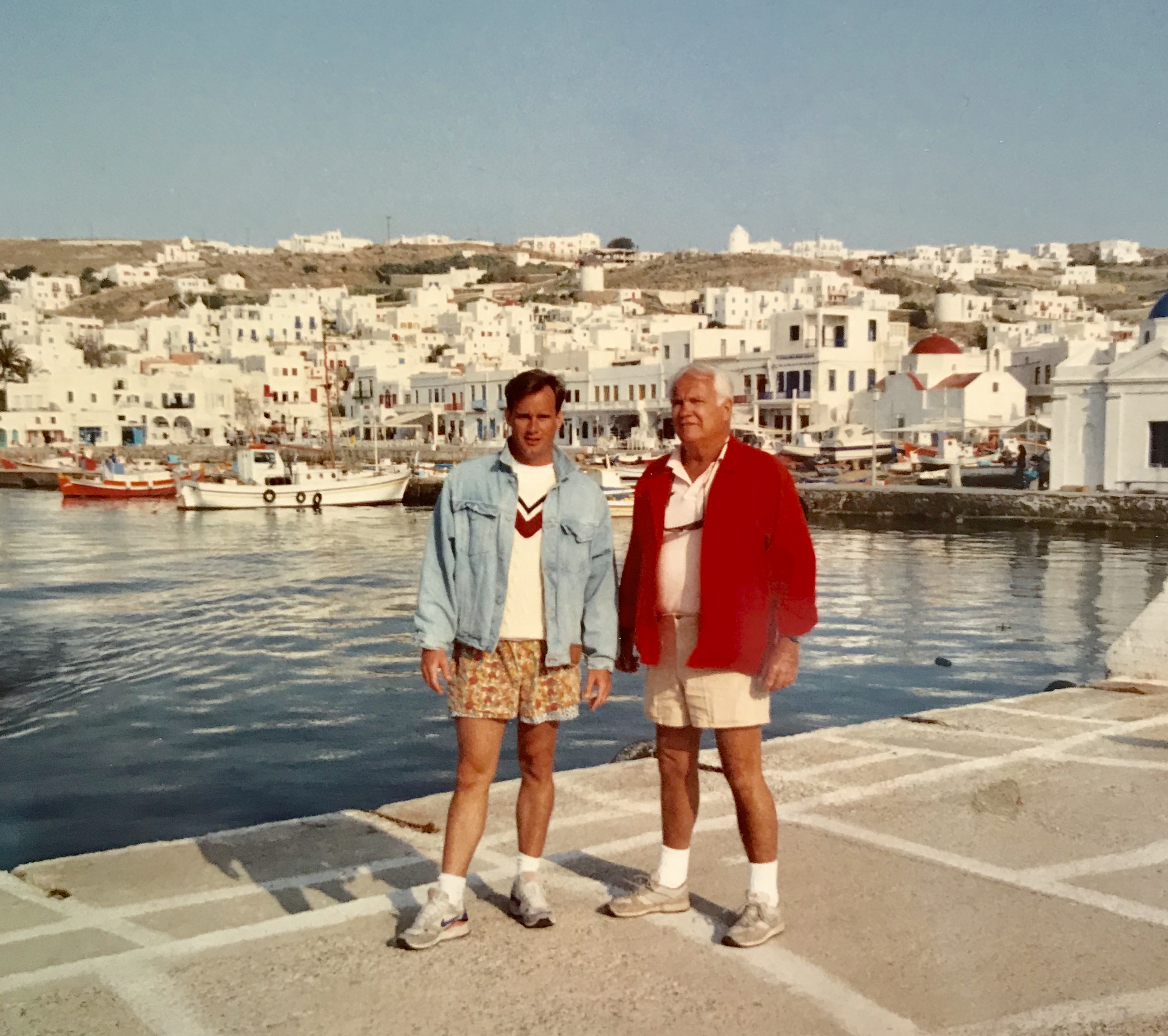 Country Information:
The capital city of Greece is Athens. Approximately 11 million Greeks live here. The official language of Greece is Greek. The majority of the population practices Greek Orthodox Christianity. 
Jim's Perspectives:
My dad and I visited Greece together in 1998, starting out at the historic Acropolis in Athens, which are ruins of 5th century B.C. temples. Specifically of interest was The Parthenon, the most famous architectural structure in the Acropolis complex.
Next up was a cruise through the Greek Islands:
First stop was in Mykonos, explored through its winding alleyways and whitewashed buildings, basket-laden donkeys, cascading geraniums, upscale shops and cafés, and beautiful beaches. Ask me sometime about my dad on the nude beach in Mykonos, sigh.
Next up was Kusadasi, in Turkey. Then off to Ephesus, an archeological site that ranks among the wonders of the world. Took a guided tour of the Agora, the Odeon, the Library of Celsus, the marble-paved main Street of Kouretes, the Baths of Scholastica, Trajan's Fountain, the Public Latrines, the Residences of the Patricians, the Prytaneum, and the Temple of Hadrian.
Finished up in Rhodes, the beautiful "Island of Roses", the largest inhabited medieval town in Europe. This fascinating web of Byzantine, Turkish and Latin ruins are the finest surviving examples of defensive architecture of the time.
Summer of 2021: Took a wonderful family trip to show my family the splendors of Croatia, Montenegro and Greece. We flew into Split, traveled throughout Croatia, then after spending a couple days in Montenegro, were off to spend 5 days in Greece.
We spent 2 days in Athens checking out all of the historical sights (check out my Instagram @jim.kitchen for the trip videos) and then flew to Mykonos. While there we traveled all over … in search of island's most beautiful beaches.