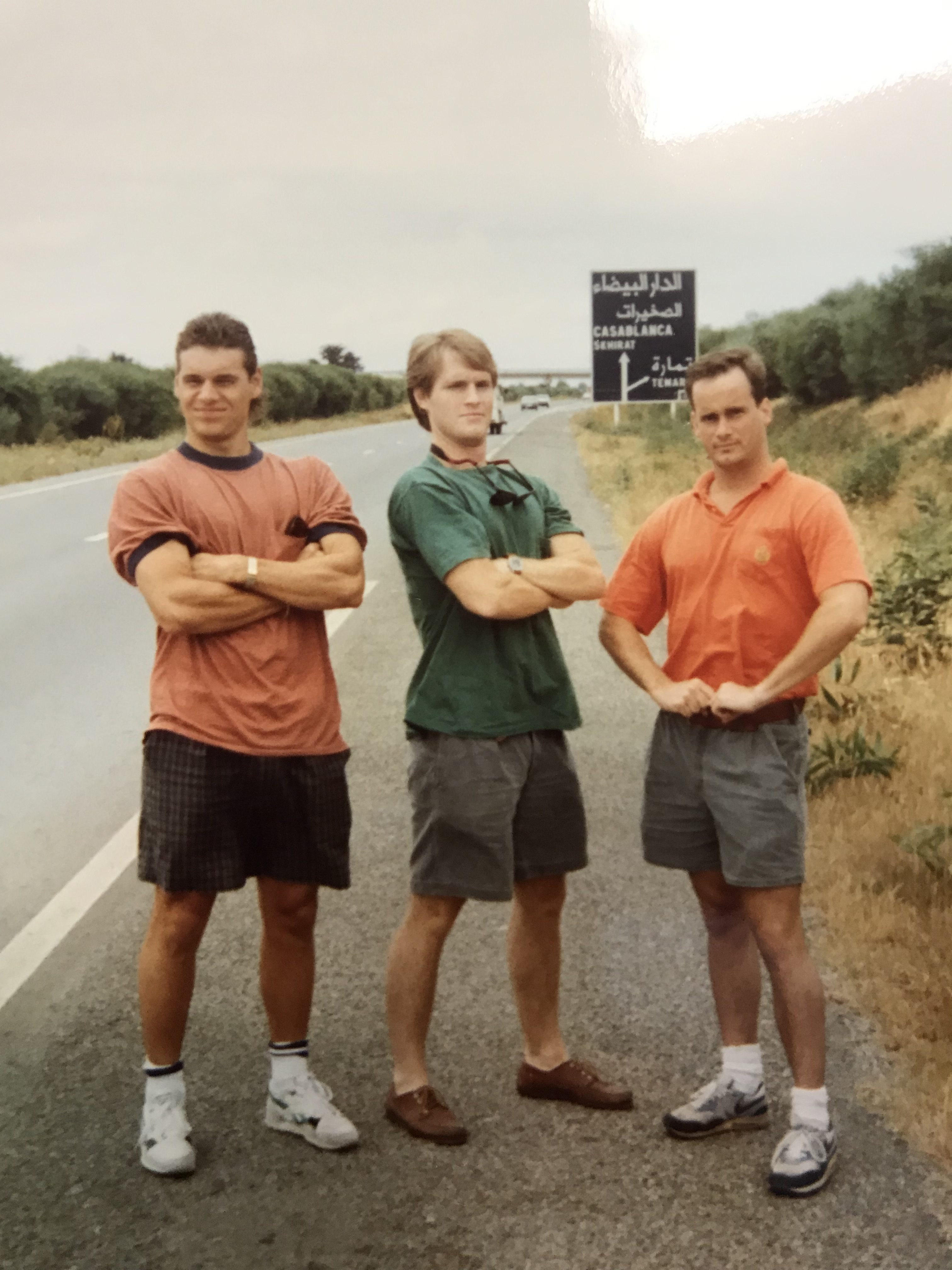 Jim's Perspectives:
As Morocco is so close to Spain – a ferry ride from Tangier to Tarifa takes only an hour, making it a great place for travelers to go for an afternoon or a few days from Spain.
This is what I did in 1991 on a long weekend with several friends, when I was studying Spanish language in Spain during the summer of 1990. I rounded up some buddies, rented a compact car, and off we went on a roadtrip from Malaga, Spain to Casablanca, Morocco. This trip was hastily planned, and looking back on it, completely ridiculous. Rental cars were not allowed on the ferry to Morocco … woops … didn't know that until we were unloading the car in Tangiers, requiring a significant bribe to get the vehicle out of customs and off the barge. Fez was our next stop, and we got in plenty of trouble there too. Wait … you say that credit cards are not taken at your hotel?  Who knew … woops #2! And big woops # 3 was allowing our crazy Italian friend Alonzo to drive us through the desert  … and it turned out he had never driven before. EVER. Alonzo, if you're reading this, why wouldn't you tell someone that before taking the wheel?!
Made it to Casablanca, and after realizing it looked nothing like the movies, we turned around and Alonzo drove us back, winding through the Sahara, dodging large trucks along the way, where in Tangiers we paid more bribes to get the car back into Spain!
That any of us survived that weekend trip was a complete miracle!
Visited Morocco again in 2021 with my son, primarily visiting the best parts of Marrakesh and the surrounding areas.
Country Information:
In Morocco, the capital is Rabat and the population is about 37 million. The official language is Arabic, but French is also spoken and Spanish speakers can be found in northern parts of the country. The dominant religion is Islam. Morocco's top exports are cars, insulated wire, phosphoric acid, mixed mineral or chemical fertilizers, and calcium phosphates. The time zone is 5 hours ahead of EST.
Travelers should be aware that it is considered rude to handle food with your left hand in Morocco, as this hand is used for going to the bathroom and for cleaning things.
A must-see in Morocco a desert tour, where travelers can ride on camelback and camp under the stars. Visitors who speak French can find some very well-priced tour programs in French for different activities throughout Morocco, usually meeting by bus at stations in Marrakech, Rabat, or Casablanca. Another must-see is Chefchaouen, also known as the blue city. This little gem sits in the Rif mountains and is a great area for hiking and exploring.