New Zealand is one of my favorite places in the entire world … particularly the southern Island city of Queenstown.
This is the world's adventure capital and I just love the place!
When I first traveled there in 1992, I visited AJ Hackett's bridge, where bungee jumping started … but wasn't brave enough to jump. I decided that IF I ever returned, I would jump. And on my 33rd birthday, I returned with my wife to Queenstown and fulfilled that promise. I hopped out of the bus, ran to the bridge and was first to jump … I did NOT want to watch others jump first.
Here I am before the jump:
During the jump!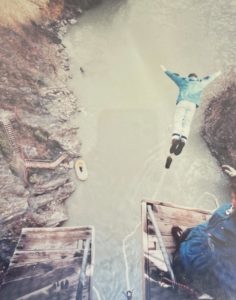 Went skiing in the Remarkables and at Coronet Peak:
And then, went on a Shotover Jet ride (a really fast boat that drives perilously close to rocks in the canyon)!
There are so many fun things to do in New Zealand … can't wait to go back!