The Most Important Lesson Chase Jones (BSBA '11) Learned as an Undergraduate at UNC Kenan-Flagler Was a Simple One: It Can Be Done.
He credits this lesson – learned in Jim Kitchen's entrepreneurship class – with giving him the confidence needed to found Vs. Cancer, his non-profit venture.
"I started Vs. Cancer when I was 23 years old – a lot of people thought that was a completely irrational goal and told me I was an idiot for even trying to do it," he says. "The only reason I was able to succeed was because I walked into it knowing that it could happen. I learned that first-hand in the entrepreneurship classes I took at UNC Kenan-Flagler."
Jones has spent most of his life defying expectations and accomplishing what others might think can't be done. During his freshman year at Carolina, he was selected as a walk-on for the varsity baseball team – a feat he attributes not to his athletic ability, but to his sheer persistence.
"The one thing I learned that I could do to separate myself from others was to be consistent in being present," Jones says. "Earning a walk-on spot on the UNC baseball team was not a reward for having great catching skills – it was the result of going to practice every day, going to workouts and just showing up. It taught me that if you're visible – if you're there – you can't be forgotten."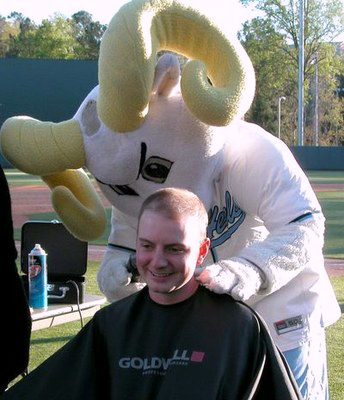 Little did he know, Jones would soon need to rely on that same persistence to overcome seemingly insurmountable circumstances. The same year he earned a spot on the Diamond Heels, Jones was diagnosed with stage four brain cancer. He took a break from baseball and temporarily withdrew from school but was determined to persevere.
And so he did. Jones has been cancer-free for more than eight years. But that accomplishment is bittersweet. "With every year that I've been cancer-free, I've also known more people that have passed away from this awful disease," he says. "As awesome and as much of a celebration as it was to cross the eight-year mark – and hopefully I'll tick off another one this year – it's still a reminder that we're not done yet."
From the time Jones was diagnosed, he was determined to fight the good fight – not just for himself, but for everyone affected by the disease. "When I was going through treatment, the biggest help for me was knowing that my teammates had my back," he says. And when Jones lost his hair from chemotherapy and radiation treatments, the team shaved their heads as a sign of support. "That meant a lot," he says. But he also knew first-hand that many of the kids who were battling cancer alongside him weren't as fortunate to have a team to support them – yet.
Shortly after he resumed his studies at UNC Kenan-Flagler, Jones partnered with his Diamond Heels teammates to organize a fundraiser in memory of two friends who had recently lost their battles with cancer. The simple gesture of solidarity from his team, which meant so much to Jones, served as inspiration for the event.
"The easiest thing we could figure out how to do was to shave our heads and ask people to pledge money," he says. The event, dubbed Basebald, was a home run. "We quickly learned that we had a platform. As UNC baseball players, people looked up to what we were doing – and they responded."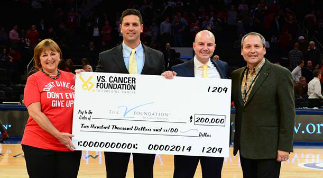 The BaseBald concept eventually became the framework on which he founded Vs. Cancer. The organization uses the same sponsorship-driven model that started it all to help teams coordinate fundraising events. The model works, Jones says, because it empowers athletes of every age, in every sport, to help their communities.
"Athletes are often the most visible people in a community. Whether they're a hometown hero or a professional baseball player, people will rally around them," he says. "They can use that platform to help kids beat cancer."
Vs. Cancer is knocking it out of the park. The non-profit works with thousands of athletes across the country and, at the close of its second fiscal year, has raised nearly $1.5 million towards combating childhood cancer.
Funds raised through teams that partner with Vs. Cancer are split between two causes – half is donated to pediatric oncology programs in the team's local community, and the other half is donated to national cancer research efforts. The 50-50 split was inspired by Jones' experience as a patient at N.C. Children's Hospital, where he got a first-hand glimpse at the vast needs of childhood cancer patients and the hospitals that treat them.
"We're literally funding every aspect of how a child goes through cancer—from the chemotherapy they receive to the research to the art therapy they go through while undergoing treatment," he says.
And Vs. Cancer is making quite the impact: The $1.5 million raised has helped fund 14 research trials and benefited 50 children's hospitals and 40,663 kids battling cancer.
The knowledge he gained as a UNC Kenan-Flagler student has proven invaluable in helping Jones manage the rapid growth of Vs. Cancer. He uses business fundamentals – such as accounting and marketing strategy – every day, sometimes referring to notes he took in class.
Jones also keeps in touch with several of his b-school professors – including Kitchen, Ted Zoller and Lawrence Mur'ray – whom he considers mentors. "I'm so thankful that when I've come back to UNC Kenan-Flagler, I can still stop by and catch up with them," he says. "It's incredible that they're still giving advice to a young alum who's just trying to start his career."