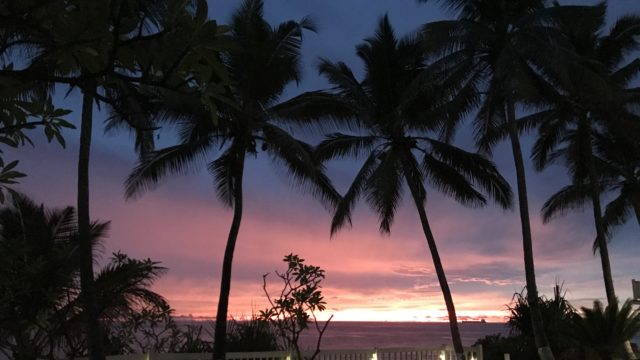 Jim's Perspectives:
In the 12th-century, the Arabs came to Comoros and brought Islam with them. They also brought their leadership structure, instilling sultans around the country. Until the French arrived in the 17th century, seven Sultan's ruled Comoros. The Portuguese, Dutch, and English were here prior to the 200 years of French rule.
This tiny island which is 40 miles long and 10 miles wide is located off the coast of northern Mozambique. Geologically speaking, it resembles Kona in Hawaii; however, the similarity stops there. It is one of the world's poorest countries, only made tolerable by the beautiful ocean vistas and breezes. This place reminds me of a bit of a modern version of Kiribati, a small poor South Pacific island.
The government is wholly disinterested in tourism, despite its spectacular landscapes. Why? Who knows! Imagine Hawaii not caring about tourism! The economy is built on Ylang Ylang and vanilla exports which have diminished over the past decade as artificial sense and flowers have improved. Although they grow a variety of fruits, few are exported. As a result, most food is imported making life very difficult for the average Comorian.
When driving around the island you'll notice a few things:
1) Most men are sitting around idly. Unemployment here is epidemic. With no industry to speak of, there's little for people to do other than work for the government or army. Given this, it's not hard to figure out why Comoros is the most unstable government on the planet. Get this: there have been 20 coup d'états since Comoros got its independence in 1976!
2) Visitors will immediately notice the piles of garbage cluttering the streets and beaches. Well it's easy to point the finger at Comorians it is not their fault: their government has no trash pick-up or waste bins. Where else should the garbage be dumped? Similarly, I must have seen 500 abandoned cars on the side of the street, just rotting away. They're everywhere!
3) Where are the young adults? They're no longer in Comoros. Many have fled the country looking for mean meaningful work abroad, mostly in France. A whopping 35% of Comoros is GDP is based on remittances from people working abroad. This explains the half-built homes you'll see across the country. As money is sent every month then, a small improvement will be made.
Here are the top things to do in Comoros:
1) Go snorkeling or diving off Itsandra Beach!  #1 thing to do!
2) Drive north to see the Salt Lake
3) Pick Ylang Ylang flowers: visit the factory
4) Visit Chimoni Beach and eat lobster
5) Visit Karthala eruption site
6) Tour old sultan's home
In 2019, I stayed at the Golden Tulip which was a nice comfortable three-star hotel with great service, and it is the only viable hotel on the island.