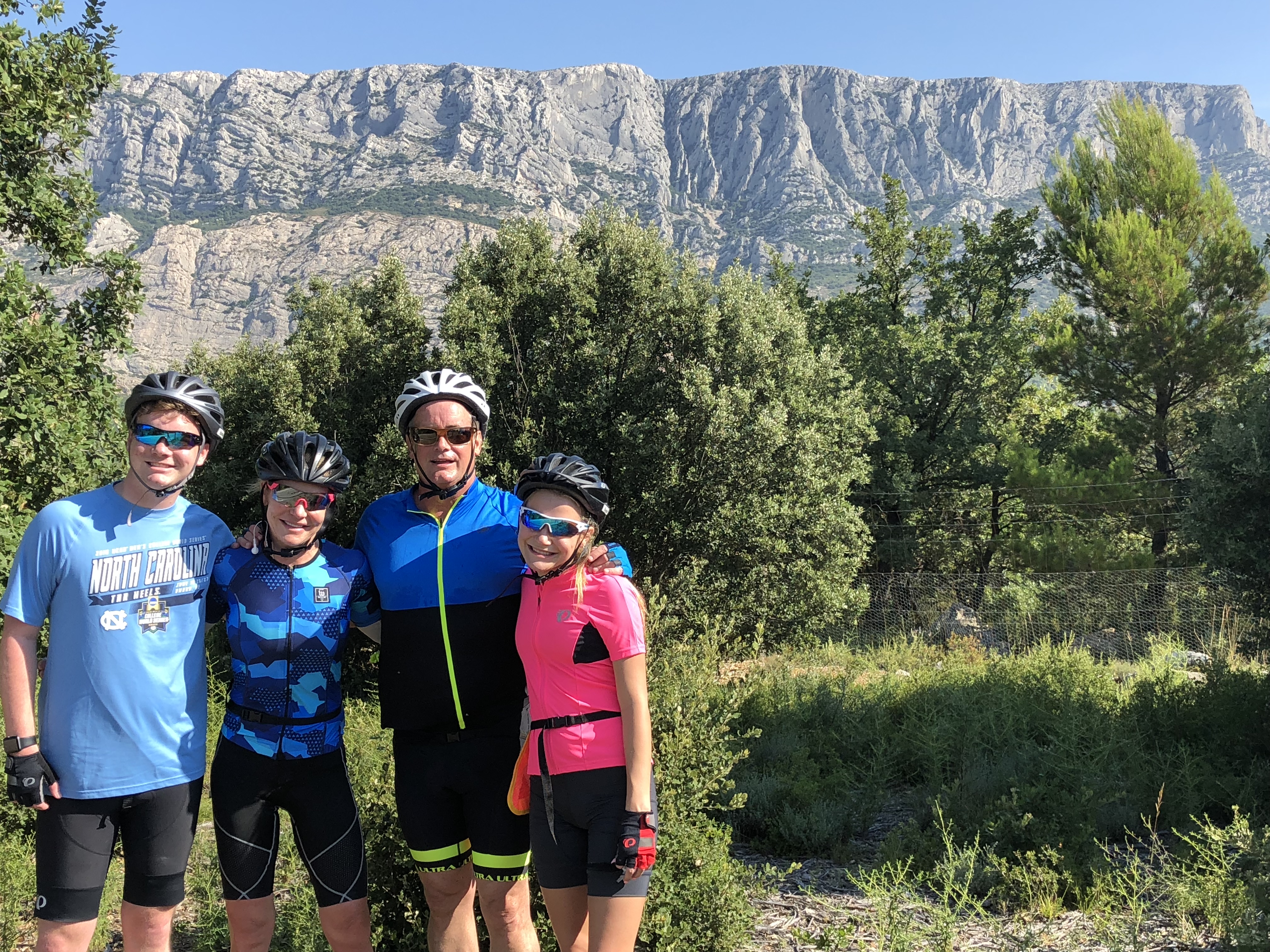 Jim's Perspectives:
I've lost count of how many times I have visited this gem of a country. Some of the more memorable time were as a young man right out of college, I took two summers to improve my foreign language skills, studying in Malaga, Spain during one summer, and in Nice, France. 10 years later I brought my girlfriend Susan Regan for a beautiful weekend trip to Paris, where we got engaged on the top of the Eiffel Tower. In 2018, my family and I took a Backroads bike trip pedaling from Provence in central/south France all the way to Cannes, on the coast.
Useful travel tips: 
Walk up to the top of the L'Arc de Triomphe on the Champs-Elysées street, Le Tour Eiffel (Eiffel Tower), the many beautiful parks and museums such as the Musée D'Orsay. Given the heartbreaking fire at Notre Dame, stop by and take a picture of the outside, so that you can re-visit in 10 years and take an "after" photo.  Right nearby there is also the Fontaine Saint-Michel, where there are cheaper shops and eateries for those willing to wander the alleys. Paris is very safe and walkable; one should not worry too much about crime as long as travelers take care to keep their money, passport, and other safe-keepings stowed in their hotel safe.
Travelers visiting in the wintertime should try to visit both Paris and, up north, Le Havre. Paris has a Christmastime market where lots of fun trinkets, food, and other souvenirs can be purchased, and the ferris wheel in Paris is decorated with lights for the occasion. In Le Havre, visitors can try the roasted chestnuts, ride the ferris wheel, see the lights, or go to the beach to see the beautiful stones smoothed by the ocean.
The Louvre is the most visited museum in the world – be sure to plan long morning or afternoon for it; the museum is enormous!
As a personal suggestion on sights to see, Montmartre is incredible. The church located there (Sacre-Coeur) is situated high up overlooking a beautiful green park, a merry-go-round that is free to use, and the oh so delicious Musée du Chocolat (Chocolate Museum) where, yes, everything is made of chocolate. Montmartre is a center of local art and food, making it a wonderful place to go and view contemporary art while snacking on a crêpe or a mouthwateringly good sandwich cooked to order in front of you.
Next time I return I really want to visit Normandy to pay my respects to the fallen at the WWII sites and at the large cemetery, with nearby war bunkers on the beautiful coastline.
A crazy fact about France is that, under special circumstances and with presidential approval, it is legal to marry someone after they have died so long as you can prove that the deceased intended to marry you.
Hot Tip for Winter Travelers: Once inside the Eiffel Tower, there is free(!) ice skating in wintertime! Travelers can ice skate on the Eiffel Tower for as long as they want. There is fun music and free skates are offered there by a worker at the kiosk.