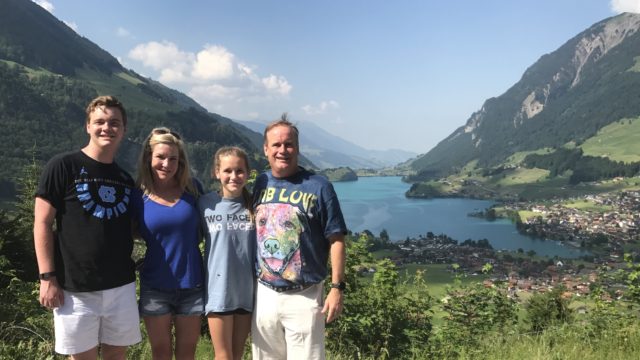 Jim's Perspectives:
Have been to Switzerland several times, however traveling with my family has been the biggest highlight! After 100s of solo journeys around the world it was fun to play tour guide through Germany, Switzerland and Italy.
After landing we took a bike tour of the city with Mikes & Bikes, which was fantastic. We roamed the city looking at the sights and learning the history of the Bavarian region. It was fascinating to learn that Hitler was an Austrian and was denied entry into art school and as a result got interested in the politics of the German Workers Party in Munich.
Loved riding through the English garden—the highlight was Susan hitting a poor dog. Had an eventful evening eating in Munich's old town.
The following day rented a car and drove to Fussen to see Neuschwanstein, Ludwig II's unfinished fairytale castle. Was sad to learn that the eccentric Bavarian ruler never even slept in the place!
The following mourning we headed to Lichtenstein through Austria, to see the Crown Prince's current residence. Walked through the charming downtown district for a bit and then were off to Lucerne.
Picked up a road bike for Susan to ride and then made our way to the Palace Lucerne which was astoundingly beautiful overlooking Lake Lucerne. Took an evening stroll over the Old Bridge which was built in the 14th century and window shopped. The following morning Susan took a 60 miles bike ride through the local villages while the kids and I rode around exploring Lucerne. Ended the day taking a cable car to the top of Mount Pilatus which enabled us to take some spectacular pictures of the region. But the most fun was cruising down the luge at 35 mph. Hated to leave Lucerne because the lake views from our room were spectacular. Temperatures were cool and the service was truly 5 star. Loved everything about this city even though its overrun with tourists (like me) during the summer.
Country Information:
The capital of Switzerland is Bern. There are approximately 8.5 million  people living here. The official languages of Switzerland are German, French, and Italian.  The majority of Swiss practice Roman Catholicism. The time zone is 6 hours ahead of EST.
When visiting Switzerland, adventurers would enjoy seeing each of the 7 wonders of Switzerland! The Seven wonders include the rich architecture of the Castle of Chillon; the lush landscapes of the Lavaux Vineyards, the three castle fortress of the Castles of Bellinzona; the the Abbey of St. Gallen, home of the Abbey Library; the Sphinx observatory, a great place to view the Aps; the Grande Dixence, the tallest gravity dam in the world; and lastly the Landwasser Viaduct railway.
A fun fact is that Switzerland and Sweden are the only two European countries that have not been at war since 1815!